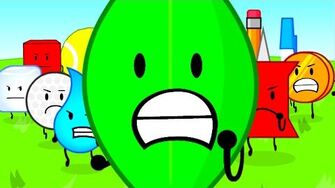 Donut: Well, sometimes you just have to deal with getting SLAPPED! <Slaps Pencil>
Pencil: Well, sometimes you just have to deal with getting STABBED! <Stabs Donut>
Donut: Well, sometimes you just have to deal with getting set ablaze. <Throws Firey at Pencil.>
Firey: Sometimes maybe you should just calm down...
Pencil: Sometimes maybe Firey's right!
Donut: Sometimes maybe Firey's WRONG!
Puffball: Sometimes maybe if one player switches teams, they'll be equal!
Pencil: Sometimes maybe it won't be me.
Donut: We'll choose Match!
Match: <Gasp>
Pencil: <gasps and sucks in the fire.>
Pencil: You'll pay for that, Donut. Hah.... <releases some fire from her mouth which burns Book.>
Book: Ahhhhh!
Fries: Well spin it already, I'm getting impatient.
Firey: Waiwaiwait one more rule. Before a contest, players may switch teams if they want.
Match: OMG, I'm like going back then.
Gelatin: I'm following Match. I'd rather be on the stronger team.
Fries: Me too.
<Eventually, everyone, except for Donut, switches teams, whilst he gives an angry glare with the screen only showing the row which has his eyes. Pencil does the same>
Pencil: Wait, I like my screen like this. <Changes her screen so there is a vertical rectangle covering her> See.
Match: OMG Pencil, me too! <High fives Pencil>
Fries: Really? I like mine like this. <Changes the screen to a hexagon>
Ruby: Well, I like mine like this. <Changes the screen to a star>
Firey: Let's all show our favorite screens.
Everyone: Yeah!
<Bomby: a circle. Dora: the blades of a fan. Nickel: a smiley face. Match: Puffball. Teardrop: the windows of a house. Needle: a target. Dora: the number 2. Pin: a small rectangle. Yellow Face: a rainbow shape. TV: an explosion like shape, with a weird tongue and smile. Dora: the number 3. Puffball: Abe Lincoln's head. Gelatin: a piece of string. Coiny: a Firey death trap. Rocky: barf. Dora: the number 4. Spongy: the TLC. Book: a house. Donut: the Announcer. Firey: a Coiny death trap. Dora: the number 5. Tennis Ball: a flower. Ruby: a recovery center. Ice Cube: 3 Davids>
Golf Ball: Stop it people!
Coiny: <Firey tries to slap him> I'm switching teams. Hey Pin, why don't you switch too?
Donut: Yeah Pin, you really need to switch. You would not believe how much you need to switch. I highly recommend that you switch. Just go switch.
Everyone: Switch, Switch, Switch, Switch, Switch, Switch, Switch, Switch!
Pin: Okay okay, I switched.
Fries: Finally.
<Gelatin spins the wheel which lands on a tug-of-war contest>
Everyone: <gasps>
<Theme song plays>
<Both teams are seen pulling a rope over a pit. Donut's team ends up falling in the pit and land on a screen for elimination>
Coiny: Did we lose?
Pin: Yeah, we lost.
Coiny: We should have won.
Pin: I agree.
Donut: Do not comment to vote! Instead, rate these videos.
<Leafy is in Yoyleland with BoomBox>
BoomBox: Has this ever happened to you? Do you want to know where Leafy is but you don't know where Leafy is? Well do we have the solution for you. Buy our new Leafy Detector as soon as you possibly can. "Why would you ever want to do that?" you ask. Here's why. Our lovely little lettuce-colored locator is revolutionary Leafy locator. Buy now.
Leafy: <switches off BoomBox>
<Episode ends>
Ad blocker interference detected!
Wikia is a free-to-use site that makes money from advertising. We have a modified experience for viewers using ad blockers

Wikia is not accessible if you've made further modifications. Remove the custom ad blocker rule(s) and the page will load as expected.