This is a list of all recommended characters that are different versions of Needle.
Blue Needle
Blue Needle is a recommended character in Season 1. It rarely appeared to be in the crowd watching Flower, Leafy, Firey and Bubble running. It is a blue version of Needle. Possibly, it died in the volcano explosion. It was recommended by Kalasi97.
Bright Radiant Plasma Needle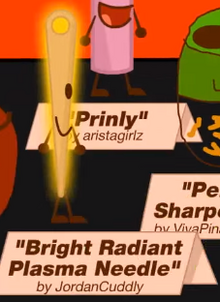 Bright Radiant Plasma Needle is a recommended character from Don't Pierce My Flesh. It is Needle but with a yellow glow around it. As its name suggests, it is supposedly bright, radiant, and plasma. It was recommended by JordanCuddly.
Male Needle
TBA
Crazy Needle
Crazy Needle
is a recommended character and a variation of Needle that was recommended by alexlion0511. It is badly drawn and filled with rainbow gradient. It also has a crazy pose and swirly eyes. It first appearence was in
Insectophobe's Nightmare 2
. In the same episode, it has been eaten by a swarm of bugs and died.
Ad blocker interference detected!
Wikia is a free-to-use site that makes money from advertising. We have a modified experience for viewers using ad blockers

Wikia is not accessible if you've made further modifications. Remove the custom ad blocker rule(s) and the page will load as expected.