About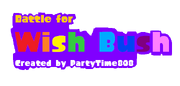 This BFDI camp is about the TLC prisoners from BFDIA battling for Wish Bush, a magic bush that is the doorway to a magical land that they can shape to their heart's content, provided they have the deed. Check out a fanmade storyboard here!
Sign Up
Choose who you want to be already! You can also recommend a character or two.
Unclaimed Contestants
These are contestants who have never been claimed before, or their user switched characters. You can claim them without consequence.
Dormant Contestants
These bad boys have been claimed by someone else, but their timer went off. You can choose them, but you'll have to keep them for 3 days in order to get them. If the original user comments on this blog or the BFWB page on Object Shows Community, you will lose the contestant. If a dormant user comments, they will become a claimed contestant.
Claimed Contestants
These are contestants that have been claimed by someone else. They have timers. The timers will reset to 7 days if the user comments. If the timer reaches zero, they will become dormant. You cannot claim them.
Recommending Characters
You can recommend characters that have a chance to join the show! If you already signed up, you can still recommend a character. You can recommend multiple characters now. Also, anyone, including non-competitors can recommend a character. However, at this point of the game you really should become a competitor.
Check out the entire RC cast here!
Ad blocker interference detected!
Wikia is a free-to-use site that makes money from advertising. We have a modified experience for viewers using ad blockers

Wikia is not accessible if you've made further modifications. Remove the custom ad blocker rule(s) and the page will load as expected.