Alrighty. I am here to send you some things about how to make your very own BFDI OC! First of all, we'll start with the
Design
So... we'll give my OC, Computery, a review.
PROS
Good asset
Good personality
An object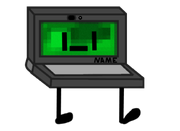 CONS
(somehow) Unoriginal idea
The limbs kinda look off.
Yeah. Not too bad, not too perfect.
This is also a problem, as one of the bits was "The limbs kinda look off."
People sometimes tend to make GIANT limbs and face.
Next up, the
Asset
You can make an asset in any way, but some people tend to do rubbish ones. You can see the difference in this slideshow.
to be continued...