The Squishy Cherries is a team on Battle for Dream Island. The team included ten characters picked by Pin on "Take the Plunge: Part 2".
Members
An asterisk means they are competing in season 2. x means they competed in season 2 but was eliminated.
Trivia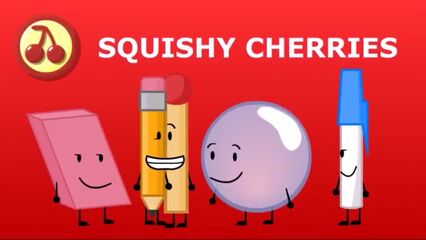 In Insectophobe's Nightmare, Snowball called the Squishy Cherries "Mushy Berries".
This is the only team to not have all the members reappeared again in Battle for Dream Island Again.
This team has both the highest and lowest ranked contestants in Season 1, being Woody, at 21st and Firey, at 1st, respectively.
4 of the 10 contestants have been on at least 2 teams.
After Spongy got eliminated in episode 3, Squishy Cherries was the only team that has all members with arms until episode 11, when Rocky joined the team.