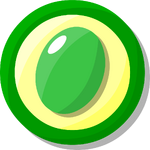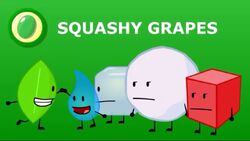 The Squashy Grapes is a team in Battle for Dream Island. The team included ten characters originally picked by Leafy on Take the Plunge: Part 2. The team had a 4 contest winning streak from Episode 2 to Episode 5. In Insectophobe's Nightmare, the team, with 10 characters, was split up into 2 teams due to the imbalance between it and the Squishy Cherries. One team's name remained as Squashy Grapes, while the other team's name was Another Name. The Squashy Grapes have won the most of the challenges of season 1.
Members
An asterisk means they are competing in season 2. An x means they competed in season 2 but was eliminated.
Name
Gender
Photo
Order voted off
Episode voted off
Number of votes at point of elimination
Needle*
Female

6th
(19th place)
Puzzling Mysteries
6 (originally 12 but she used her Win Token)

Teardrop x

Female

7th
(18th place)
Crybaby!
5 (eliminated via contestants' choice)
Golf Ball*
Female

8th
(17th place)
Lofty
6 (originally 12 but she used her Win Token, eliminated via contestants' choice)
Coiny*
Male

9th
(16th place)
A Leg Up in the Race
30 (eliminated via contestant's choice, even though he would have gotten eliminated anyways)
Snowball
Male

(Switched to Squishy Cherries)

10th
(15th place)

Don't Lose Your Marbles
47
Tennis Ball*
Male

(Switched to Another Name then back to Squashy Grapes)

15th
(10th place)

Reveal Novum
2 (eliminated via tiebreaker)
Rocky*
Male

(Switched to Another Name and Squishy Cherries)

19th
(6th place)

Don't Pierce My Flesh
319
Ice Cube*
Female

18th
(7th place)
The Glistening
10 votes (eliminated contestants), 160+ (with recommended characters)
Flower
Female

1st (used to be in last place)
Barriers and Pitfalls
4
21st
(4th place)
Insectophobe's Nightmare 2
524
Leafy
Female

23rd
(2nd place)
Return of the Hang Glider
236 (To win)
Trivia
All five teams that have original Squashy Grapes members in BFB all have exactly two per team.

Leafy and Rocky are members of Beep. Ice Cube and Teardrop are members of Bleh. Tennis Ball and Golf Ball are members of A Better Name Than That. Coiny and Needle are members of The Losers! and Flower and Snowball are members of Iance.
Gallery