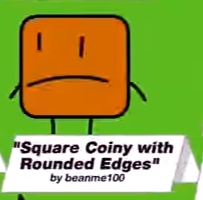 Square Coiny with Rounded Edges is a recommended character that appeared in Insectophobe's Nightmare 2. It is a rounded rectangle that is copper-colored, and like its name suggests, meant to resemble Coiny. It was recommended by beanme100. It was one of the many recommended characters who got eaten by the bugs.
Ad blocker interference detected!
Wikia is a free-to-use site that makes money from advertising. We have a modified experience for viewers using ad blockers

Wikia is not accessible if you've made further modifications. Remove the custom ad blocker rule(s) and the page will load as expected.