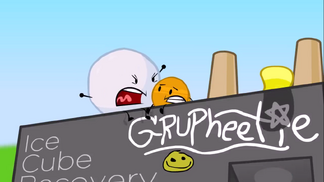 This page describes the interactions between Snowball and Coiny.
Coiny appears to be friends with Snowball. Although the two of them have conflicts sometimes, these appear to be one-sided on Snowball's side, and not through any hatred of Snowball to Coiny.
Episodes suggesting a friendship
Episodes suggesting a conflict
In Power of Three, Snowball shoves Coiny out of the way at the last second to place 4th for his team.
In Puzzling Mysteries, Snowball wanted Firey to be on the team but Coiny disagreed.
In Insectophobe's Nightmare, Snowball yells at Coiny on top of the ICRCC due to knowing an eliminated contestant would rejoin.
Trivia
Coiny and Snowball's elimination is conductive. Coiny is eliminated in episode 12, while Snowball is eliminated in the next episode. Also, both of them had the most total votes for them in the episode that they were eliminated in. In Episode 12, Coiny had a total of 40 votes, the most votes out of any other contestant at the time. Snowball had a total of 65 votes in Episode 13, also the most ever at that time.
Gallery