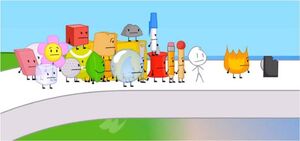 <the TLC tips on its side, freeing the eliminated contestants>
<Flower bites off a piece of the Announcer>
[David votes for Leafy by showing leafs]
<the votes are shown quickly>
<the Announcer throws the Grand Cake to Firey> <Coiny faints>
<Cuts to the contestants standing in front of Dream Island>
<Firey closes the gate> <Leafy shaking her hands in anger> <Leafy calls the Announcer>
<Screen split into two smaller one, the left being Leafy's, the right being Announcer in a ball house>
<Leafy takes a box of paper slips and writes 1,000,000,000,000$ on it>
<Leafy gives the paper slip to the Announcer though the telephone>
<Announcer gives the certificate with "Leafy now owns Dream Island" written on it to Leafy> <Camera pans to Firey, after blocking off Dream Island's entrance>
<Camera zooms out, show that Dream Island has disappear>
<An asteroid hits Flower>
<Screen changes to a UFO abducting Tennis Ball, Match, Snowball and Woody>
<Camera shows the MR> <The MRC revives Flower>
<Flower picking up the BRC>
<Flower with the BRC standing next to an incinerator>
<Flower throws the BRC into the incinerator>
<Firey pushes Flower into the incinerator> <The MRC revives Flower>
<Flower throws the FRC into the incinerator>
(Camera shows Snowball, Tennis Ball, Match and Woody on the UFO>
<Match turns the "Flying" switch off>
<The ATD drops down>
[Everyone gasps again]
Pin: I think Leafy deserves the death penalty!
[Everyone says "Yeah!"]
Pencil: I found Flower's Announcer Crusher! I'm pretty sure it will do the job!
Pin: Wow, good job Pencil!
[A robotic arm puts Leafy into the Announcer Crusher]
Golf Ball: Any last words Leafy?
Leafy: Yeah, I-
[Eraser activates the Announcer Crusher]
[Everyone shouts "Go!"]
Match: Hey, like, whats that thing over there?
[Cut to Firey flying on a hang glider]
[Firey picks up Leafy]
Leafy: What are you doing? Get your hands off of me you jerk!
Firey: Leafy, Leafy! Leafy, I'm sorry for what I did. I realise that what I wanted most wasn't Dream Island, It's you, your friendship. I just want you to know that I'm tired of all this turmoil thats going on, all these conflicts and stuff. And I'd rather spend my time with you, whether its on Dream Island or not.
Leafy: Really, you mean it?
Golf Ball: Hurry up! We have to get back to the execution!
[Shows Leafy and Firey flying into the sunset]
["The End" appears]
[Credits roll]
Pencil: Hey, Match, wouldn't it be weird if the very first and very last spoken words of BFDI were the same?
[Episode ends]}}
Ad blocker interference detected!
Wikia is a free-to-use site that makes money from advertising. We have a modified experience for viewers using ad blockers

Wikia is not accessible if you've made further modifications. Remove the custom ad blocker rule(s) and the page will load as expected.