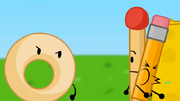 Pencil and Donut are both contestants in Battle for Dream Island Again. Very early on in the season, a conflict between them forms.
Due to Donut being eliminated in Get Digging, their conflicts or interactions did not expand any further.
Episodes suggesting a conflict
This episode marks the first time that Donut and Pencil interact with one another. It is also the first time that Donut has interacted. When the contestants are split into teams of veterans and newbies, Donut notices that his team is smaller than the other team, and complains about it. This causes Pencil to annoyingly state that "Sometimes you just have to deal with it." This leads to a war of words and harsh actions between Donut and Pencil involving Donut slapping Pencil, Pencil stabbing Donut and Donut setting Pencil on fire with Firey. At the end of their violent battle, Puffball suggests that a player switches teams, and to spite Pencil, Donut picks Match to join their team. Pencil then states that she'll get revenge on Donut for tearing Match away from her by breathing fire at Donut, but instead of hitting him, she hits Book. However, later in the episode after reading the rules, Pencil and Match are reunited when it is announced that players may switch teams at any given time before a contest. After everyone switches, Donut angrily has a staring close-up, as does Pencil, right before she tells everyone her screen preference.
Trivia
This is the first notable conflict in Battle for Dream Island Again.
This is the first conflict that Donut had with another contestant.
Both Penil and Donut were the first eliminated in different seasons, as Donut was the first eliminated from BFDIA while Pencil was the first eliminated from BFB.
Gallery