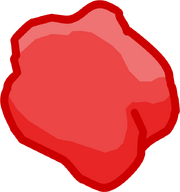 Modeling Clay was the "cake" handed to contestants of BFDI in Episode 10 called Crybaby!. It was uploaded to YouTube on October 1st, 2010. The contestants didn't eat it because of it not being cake. It is a chunk of red clay. Other than that, nothing else is really known about it.
Ad blocker interference detected!
Wikia is a free-to-use site that makes money from advertising. We have a modified experience for viewers using ad blockers

Wikia is not accessible if you've made further modifications. Remove the custom ad blocker rule(s) and the page will load as expected.