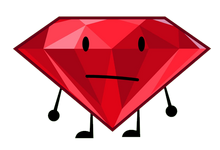 Match and Ruby are very good friends throughout Battle for Dream Island Again.
In IDFB, Ruby seems to have replaced Match. This can be seen with how Pencil is fine with Ruby calling her Pence-Pence, even though that name was previously only to be used by Match. Pencil's newfound disdain for Match suggests that she values Ruby's incompetence over Match's selfishness.
Gallery
Ad blocker interference detected!
Wikia is a free-to-use site that makes money from advertising. We have a modified experience for viewers using ad blockers

Wikia is not accessible if you've made further modifications. Remove the custom ad blocker rule(s) and the page will load as expected.