"
So, to clarify...
"
 

— Lightning, on several occasions
Lightning is a contestant on Battle for BFDI. He was a recommended character that could have joined Battle for Dream Island Again, but with only 93 votes, placed 46th, he did not have enough votes to join and was flung to the Locker of Losers.
Lightning later appeared in No More Snow!, along with Cloudy. He struck a tree, made it fall over, and crushed Pin, killing her.
Lightning had a chance to join IDFB, but he failed to join with 65 votes.[1]. He is now a contestant on Battle for BFDI and is a member of team Iance.
Appearance
Lightning appears to be a lightning bolt, which is a form of plasma. The outline is olive, and the inside is bright yellow.
Changes
BFDI 17 (recommended character)
Lightning is called Bolty.
Bolty has arms and legs.
Bolty has no shading.
Bolty has a more jagged shape.
Bolty has 3 segments.
Bolty has white outlining.
BFDI 17 (Cloudy's audition)
Bolty has no limbs.
Bolty is a part of Cloudy.
BFDIA
Bolty is renamed to Lightning.
IDFB
Lightning has a shine toward his top.
Lightning has shading toward his bottom.
Lightning has a more smooth shape.
Lightning has 1 segment.
Lightning is much more stout.
Lightning is no longer attached to Cloudy.
BFB
Lightning regains his arms.
Personality
Lightning is a feisty character who enjoys zapping people, but only people in particular, such as Flower.
He affiliates with rude and other killers such as Snowball. His voice is similar to Liy and Ruby's, except he talks more slowly. He seems to take orders from others when it comes to who he is supposed to zap. He also appears to enjoy/require clarification of the challenges, although he hasn't asked for this since "Why Would You Do This on a Swingset".
Lightning also feels remorse for his own actions, making him a little more friendly despite having to zap people numerously.
Relationships
Main article: Lightning/Relationships
Votes
Season 2

| Episode | Votes |
| --- | --- |
| 1 | 93 (to join) |
Season 4

| Episode | Votes |
| --- | --- |
| 2 | 532 |
| 12 | 804 |
Total elimination votes: 1,336
Total votes: 1,429
Kills
Deaths
Fortunate Ben: Obliterated by Four.
Zaps
When Lightning zaps somebody, the electric shock knocks them out.
Trivia
Lightning says that he has killed dozens of people in Getting Teardrop to Talk.

He also thinks it's sad.
However, in BFB, he hasn't killed anyone yet.

Lightning is the only legless member of iance.
Lightning is one of the four flyers, the others are Black Hole, Cloudy, and Puffball.

He's also the only flying contestant with limbs.

Running gag: After Four states what the contest is, Lightning asks Snowball, "So to clarify, (challenge)".
Lightning and Stapy are the only contestants who are legless.
A common goof with Lightning is his arms disappearing.
All of Lightning's voting poses involve him having one hand on his head and the other on his "hip".
Lightning's voting pose in Getting Teardrop to Talk was the same pose in The Reveal.
Despite being able to fly, in Getting Teardrop to Talk, Lightning could not reach the basket.
Lightning has zapped 6 times so far (currently).
He is the first male contestant to be safe in BFB.
Lightning is the only BFDIA/IDFB TLC contestant to get a limb change after IDFB.
Lightning is often mistaken as a female by fans, likely because of his voice.

Cary Huang himself even mistook him as a female in his "Cary Reacts to BFB 9" live stream on Humany at 2:48, however, he corrected himself.

Lightning is one of the eight contestants who had their minds swapped in What Do You Think of Roleplay?, the others are Tree, Basketball, Spongy, Puffball, Pin, Taco, and Rocky.
According to Fanny in What Do You Think of Roleplay?, Lightning always forgets that he can fly.
Gallery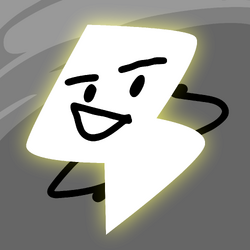 Click here to view the gallery.
References
See also