This article focuses on the relationships between Leafy and Snowball. The two didn't have much interactions with each other as Leafy made it into the Top 3, while Snowball was eliminated in Don't Lose Your Marbles.
Episodes suggesting a friendship
In Take the Plunge: Part 2, Leafy and Snowball end up on the same team.
In Bridge Crossing, Leafy and Snowball both agreed that it was Needle's cake fault that the windstorm started.
Episodes suggesting a conflict
In Insectophobe's Nightmare, Snowball tied Leafy and the other contestants together and pull them forward in the race himself because they were too slow.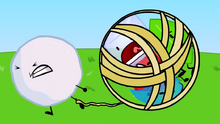 In Return of the Hang Glider, Snowball, along with everyone else, agree that Leafy should receive the death penalty, due to her stealing Dream Island.