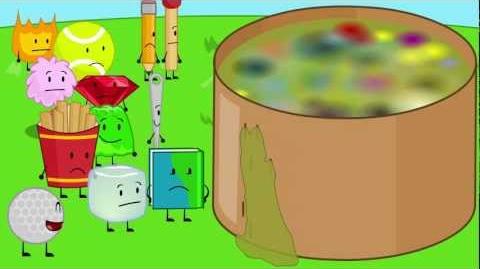 Before the intro
After the intro
Cake at Stake
Team switching
Contest
<Pin squishes yoyleberries>
Pin: Viola! Done!
Coiny: Yes! Hi-five!
<Teardrop gets in the way>
Coiny: Teardrop, that Hi-Five wasn't for you.
Pin: Yeah TD! Everyone knows you aren't a real contestant!
<Puffball flies to a series of objects and backgrounds and into Yoyleland>
Gelatin: Sounds good. Needle, let's get yoyleberries!
Needle: Yeah!
Match: Ruby, wanna join our alliance?
Pencil: Sadly, she's dead.
Ruby: And Ice Cube!?
Match: Well, Ice Cube made an ugly face and like, real like that.
Ruby: Then I'll join!!
Pencil: Yeah!
Fries: Get digging Nickel, the ingredients are probably underground.
<Nickel digs>
<Needle picks the berries when suddenly, Leafy appears metal>
<Needle slaps Leafy>
Needle: DON'T CALL ME NEED-
Leafy: GRRR!!
<grabs knife>
Needle: -y
<Leafy starts throwing multiple knives>
Gelatin: Why did you do that, Needle?
Needle: I didn't mean to!
Gelatin: It's okay. I got acid spitballs. one hit and Leafy will disintegrate into ash!
Needle: Fire!
Leafy: HUH?
<Leafy uses her amazing dodging skills>
Leafy: GRRRRRR!!!
<Leafy throws more knives> (Gelatin: What's with the knives?)
Puffball: I think we've got enough yoyleberries! Let's GOOOOOOOOO! (Needle: But.)
<Puffball flies away into the same objects and backgrounds from the knives>
Fries: Get digging Rocky, the ingredients are probably um... uh, UNDERGROUND!
<Rocky digs>
Match: OMG!! I've got an idea! Let's blow bubbles, to bring Bubble back to life!!!!
Pencil: YEAH!!! I've got my bubble solution and blowing wand so let's do it!!!
Match: OMG!! We can have our original alliance back!!!
Ruby: Huh, WAIT!!!
Pencil: What?
Ruby: Dipping your wands, and blowing a bubble is so much work right?
Pencil: Uh, no! It's not.
Ruby: And for what? A friend that you did fine without, when they can't even count to 3! Totally not worth it.
Pencil: I think it's worth a try!
Ruby: Please, you've got better things to do.
Pencil: You're being weird, Ruby.
Ruby: Just trying to save our friend from wasting her effort on things she doesn't need. Heh heh.
Golf Ball: Good. You're back.
<Leafy's knives cause a leak in the stew>
<Gelatin and Needle pour the berries>
Golf Ball: We're almost done!
Fries: Get digging Yellow Face, the ingredients are probably down there.
<Yellow Face digs>
Golf Ball: I think we're done with this stew.
W.O.A.H. Bunch wins! W.O.A.H. Bunch, your stew was sweet and simple.
Team No-Name loses. Team No-Name, your stew tasted a bit sharp. You also went overboard with both quantity and ingredients.
Top 25 Recommended characters are shown.
<Epilogue>
<Fries looking at the 5 holes the digging characters made>
Fries: Um.... you guys can stop.
Ad blocker interference detected!
Wikia is a free-to-use site that makes money from advertising. We have a modified experience for viewers using ad blockers

Wikia is not accessible if you've made further modifications. Remove the custom ad blocker rule(s) and the page will load as expected.