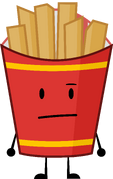 This article focuses on the interactions between Fries and Gelatin. Fries and Gelatin are shown to be friends since Yeah, Who? I Wanna Know.
Episodes suggesting a friendship
In Yeah, Who? I Wanna Know, Fries agreed, along with Gelatin to join Match's Team.
In Get Digging, Gelatin hated TV's new Cake at Stake song. Fries also agrees.
In Zeeky Boogy Doog, Gelatin gives Fries an Anti-Poison to keep Fries alive. Later, Fries recovered Gelatin with the HPRC. Later in the episode, when Golf Ball killed Fries, Gelatin froze her.
Episodes suggesting a conflict
In Insectophobe's Nightmare 3, Gelatin ate one of Fries' fries. Gelatin, disgusted, said that his fries taste like they are a thousand years old. Fries yelled at Gelatin.
In Get in the Van, Fries yelled at Gelatin for pushing TB, GB, and Rocky off of Puffball because the latter didn't have enough space.
In Welcome Back, it is revealed that Gelatin has eaten more of Fries' fries.
Ad blocker interference detected!
Wikia is a free-to-use site that makes money from advertising. We have a modified experience for viewers using ad blockers

Wikia is not accessible if you've made further modifications. Remove the custom ad blocker rule(s) and the page will load as expected.