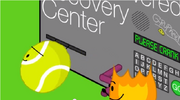 Firey and Tennis Ball have seen to have a minor friendship during the Merge. However, in the episode where Coiny was eliminated, Tennis Ball and Firey became enemies when Firey "had to keep slapping," but from Coiny and David. However, in Season 2, they seemed to become minor friends again.
Episodes suggesting a friendship
Episodes suggesting a conflict
In Don't Lose Your Marbles, Firey picked Tennis Ball to slap because he "had to keep slapping". When slapped again by Firey, Tennis Ball said to Firey "That's it, I'm not working with you," which suggests that they were working together in the past.
In The Reveal, Firey chose Tennis Ball instead of Leafy for the frisbee contest, but that was because there was no one left. Likewise, Tennis Ball chose Rocky over Firey probably because him and Rocky have more similiarities to each other.
Gallery