Blue Rocky
Blue Rocky is a character recommended by simondomino in Gardening Hero as one of the gaspers. BR's a blue-colored variation of Rocky.
Bubble Rocky
Bubble Rocky was a recommended character that appeared in Don't Pierce My Flesh. It is just a clone of Rocky. It was presumed dead when The Volcano they were in erupted in the same episode.

Ender Rocky
Ender Rocky is a recommended character in Episode 25. It is a black version of Rocky with purple eyes. It was recommended by jaggerbug.
Robot Rocky
Robot Rocky is a recommended character that appeared in Bowling, Now with Explosions!. It is a mechanical Rocky. It was recommended as part of a duo in Episode 16 with Robot Flower.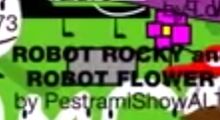 Rockette
Rockette is a recommended character that appeared in The Glistening as one of the many RC's to vote for Ice Cube to be eliminated. It is a one-armed variation of Rocky with a rainbow bow on its head.
White Rocky
White Rocky
is a
recommended character
who was recommended by addrial. They appeared in
The Glistening
when they voted for
Ice Cube
's elimination. Their appearance is similar to
Rocky
, except that instead of grey they are white, and instead of being armless, White Rocky has two arms.
Trivia
Ender Rocky is possibly a reference to Enderman, a type of mob in Minecraft that is black and has purple eyes.
Ad blocker interference detected!
Wikia is a free-to-use site that makes money from advertising. We have a modified experience for viewers using ad blockers

Wikia is not accessible if you've made further modifications. Remove the custom ad blocker rule(s) and the page will load as expected.