Eggplant is one of the few characters recommended by wifishark. Eggplant appeared in BFDIA 5a. It placed 25th out of the Top 25 Recommended Characters, barely getting the spot. It is a purple-colored eggplant, with green leaves on top.
Trivia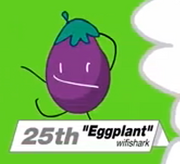 Ad blocker interference detected!
Wikia is a free-to-use site that makes money from advertising. We have a modified experience for viewers using ad blockers

Wikia is not accessible if you've made further modifications. Remove the custom ad blocker rule(s) and the page will load as expected.