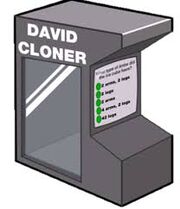 The David Cloner is a machine that is first seen in Insectophobe's Nightmare 2 that clones David's.
Appearance
The David Cloner looks very similar to the ICRC2.0 (Ice Cube Recovery Center 2.0), which the only exception being the label is "David Cloner". It was used in Season 1 to clone Davids due to all contestants being dead. Despite being used to make clones of David, it has a question onscreen from the ICRC2.0. It appeared in Insectophobe's Nightmare 2.
Trivia
Ad blocker interference detected!
Wikia is a free-to-use site that makes money from advertising. We have a modified experience for viewers using ad blockers

Wikia is not accessible if you've made further modifications. Remove the custom ad blocker rule(s) and the page will load as expected.