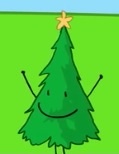 Christmas Tree is a recommended character in BFDIA 5a. Christmas Tree is also one of the multiple Christmas-themed recommended characters for the episode. This character was recommended by ghostgirl7000, and placed 3rd in the Top 25 for that episode.
Christmas Tree appears to be a pine tree, with a yellow star on the top, a signature decor for trees in Christmas.
Christmas Tree made a cameo in TWOW 0, as a represent for all of the people who think TWOW is like BAGUETTE. He/She later makes a sad face when Cary says that the latter has been cancelled.
Ad blocker interference detected!
Wikia is a free-to-use site that makes money from advertising. We have a modified experience for viewers using ad blockers

Wikia is not accessible if you've made further modifications. Remove the custom ad blocker rule(s) and the page will load as expected.