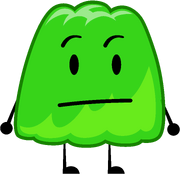 Check-it Eyebrows are frequently used in BFDI when a character is looking at something while having visible eyebrows. Both eyebrows look like an "r" shape and face the same way. This animation graphic is used globally on object shows. SammyShinx gave the name "Check-it Eyebrows" because they reminded him of a face on ROBLOX called "Check it". So far (not counting irregular designed characters like David, Dora and Yellow Face), every single character on BFDI has had Check-it Eyebrows except for Woody and Evil Leafy. Teardrop was the first ever character to have Check-it Eyebrows.
Listing
Season 1 contestants
Season 2 contestants
Recommended characters
Ad blocker interference detected!
Wikia is a free-to-use site that makes money from advertising. We have a modified experience for viewers using ad blockers

Wikia is not accessible if you've made further modifications. Remove the custom ad blocker rule(s) and the page will load as expected.