Car is a recommended character who appeared in Half a Loaf Is Better Than None. He/She was recommended by alexlion05. He/She was seen along with some other recommended characters jumping in a vat of hydrochloric acid to retrieve Bally and Marble, along with the rest of the Announcer's marble collection to get 15 bonus points. It is an orange car, with gray wheels and handle. Aside from that, nothing else is known about him/her.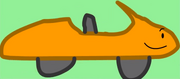 Ad blocker interference detected!
Wikia is a free-to-use site that makes money from advertising. We have a modified experience for viewers using ad blockers

Wikia is not accessible if you've made further modifications. Remove the custom ad blocker rule(s) and the page will load as expected.