See also: Cake at Stake
Cake is a recommended character who first appeared in Cycle of Life when Announcer said there was no Cake at Stake. He appeared to be a strawberry cake.
Cake had a chance to compete in BFDIA, but he placed 23rd with 134 votes and he got sent to the Locker of Losers.
Cake's IDFB redesign features Cake as a slice of a chocolate cake, along with a whipped cream puff on top and a rim of frosting.[2]
Cake had a chance to rejoin the show as of Welcome Back. Cake joined the fourth season, Battle for BFDI, and he appears in Getting Teardrop to Talk.
Appearance
Cake appears to be a slice of chocolate fudge cake with a frosting puff on top.
BFDI 15
Cake comes to life.
Cake has a face made of object assets.
Cake's torso is the normal cake asset.
Cake has legs, but no arms.
IDFB
Cake is a slice of chocolate cake.
Cake has an ivory frosting puff on top of him.
Cake is significantly smaller.
Cake has a hot pink frosting rim at his top-right.
Cake gains shading to the right of his frosting puff.
Cake gains shading on his frosting rim to his bottom left.
Coverage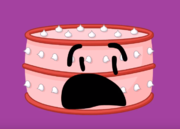 In Cycle of Life, what could've been Cake made a brief appearance. When Announcer said that there was no Cake at Stake, a limbless Cake with mouth and eyes that was once smiling started to cower when Announcer said there was no Cake at Stake.
Deaths
Gallery
Notes
↑

The names of the layers in Cake's IDFB asset
Ad blocker interference detected!
Wikia is a free-to-use site that makes money from advertising. We have a modified experience for viewers using ad blockers

Wikia is not accessible if you've made further modifications. Remove the custom ad blocker rule(s) and the page will load as expected.