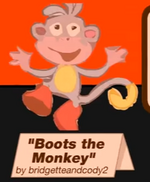 Boots the Monkey is a recommended character that appeared in Don't Pierce My Flesh and The Glistening. It is based on a character named "Boots the Monkey" from Dora the Explorer, an educational animated TV series.
In Don't Pierce My Flesh, it is a poorly traced art of Boots, and in The Glistening, it was a variation of David with blue hair and red shoes, and was one of the characters who voted for Ice Cube's elimination. It was recommended by bridgetteandcody2 in both episodes.
Ad blocker interference detected!
Wikia is a free-to-use site that makes money from advertising. We have a modified experience for viewers using ad blockers

Wikia is not accessible if you've made further modifications. Remove the custom ad blocker rule(s) and the page will load as expected.