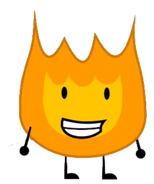 Suspending the FRC above a lake-3rd prank made by Blocky. It appeared in The Reveal and was the first advertisement to be recommended by someone.
Lines
"Hey guys! For a prank, suspend the Firey Recovery Center above a lake, it's simple! Idea by Simondomino and Geriolah7!"
"This program, was brought to you, by Blocky's Funny Doings International."
(The BFDI's logo turns to the camera, smiles and gives a thumbs up)
Instructions
Suspend the FRC above a lake.
Kill Firey.
Enjoy. Simple!
Gallery
Ad blocker interference detected!
Wikia is a free-to-use site that makes money from advertising. We have a modified experience for viewers using ad blockers

Wikia is not accessible if you've made further modifications. Remove the custom ad blocker rule(s) and the page will load as expected.