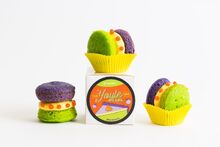 Battle of the Fantasy Food 2016 was a contest run by Wikia Inc. 64 types of fictional food participated, and the top four were featured as a real-life version on the New York Comic Con. Yoylecake nominated and voted into the contest, and ultimately became the winner. This article recaps its run round by round.
Run
| Round Number | Competitor | Winner | Theorized reason |
| --- | --- | --- | --- |
| 1 | Dark Forest Cake (Portal) | Yoylecake | All that Dark Forest Cake has going for it is a dead meme. |
| 2 | Gobblegum (Call of Duty) | Yoylecake | Call of Duty is infamous for having a "cancerous" fanbase. |
| 3 | Rainbow Confetti Bread (Breadwinners) | Yoylecake | Breadwinners has been critically bashed many times, leading to it's cancellation and irrelevance in the public's eyes. |
| 4 | Moomoo Milk (Pokemon) | Yoylecake | Moomoo Milk is just some ordinary milk that wasn't featured at all in Generation 6 and barely made an appearance in Generation 7, which makes it irrelevant. |
| 5 | Pawpsicles (Zootopia) | Yoylecake | Zootopia was a rather new movie at the time, and the Pawpsicles only played a small role in the movie. |
| 6 | Pitt Cola (Gravity Falls) | Yoylecake | Pitt Cola is not talked about a lot by Gravity Falls fans.  |
Criticism
Yoylecake winning has caused much controversy as people believe it only won because Jacknjellify got his fans to vote Yoylecake.

This resulted in a creation of a bunch of comments on the blog posts about the contest reading "Yoylecake!".

The last two competitors were both from Disney.
External links
Ad blocker interference detected!
Wikia is a free-to-use site that makes money from advertising. We have a modified experience for viewers using ad blockers

Wikia is not accessible if you've made further modifications. Remove the custom ad blocker rule(s) and the page will load as expected.