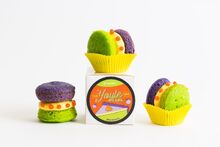 Battle of the Fantasy Food 2016 was a contest run by Wikia Inc. 64 types of fictional food participated, and the top four were featured as a real-life version on the New York Comic Con. Yoylecake was nominated and voted into the contest, and ultimately became the winner. This article recaps its matches round by round.
Matches that included Yoylecake
| Round Number | Competitor | Winner | Theorized reason |
| --- | --- | --- | --- |
| 1 | Black Forest Cake (Portal) | Yoylecake | Despite the very well known phrase among the gaming community, "The cake is a lie.", the cake itself was not that memorable. |
| 2 | Gobblegum (Call of Duty) | Yoylecake | Call of Duty is infamous for having a bad fanbase. It's also not that relevant to the Call of Duty franchise, having only appeared in Black Ops III Zombies mode. |
| 3 | Rainbow Confetti Bread (Breadwinners) | Yoylecake | Breadwinners has been critically bashed many times, leading to it's cancellation and irrelevance in the public's eyes. |
| 4 | Moomoo Milk (Pokémon) | Yoylecake | Moomoo Milk is just some ordinary milk that was rarely featured in Generation 6 (excluding the Generation 3 remakes), and barely made an appearance in Generation 7. This made it irrelevant in comparison to other foods that are part of the Pokémon franchise. |
| 5 | Pawpsicles (Zootopia) | Yoylecake | Zootopia was a rather new movie at the time, and the Pawpsicles only played a small role in the movie. |
| 6 | Pitt Cola (Gravity Falls) | Yoylecake | Pitt Cola is not talked about a lot by Gravity Falls fans.  |
Criticism
Yoylecake winning has caused much controversy as people believe it only won because Jacknjellify told their fans to vote for Yoylecake, while the other competitors did nothing to promote their foods.

This resulted in a creation of a bunch of comments on the blog posts about the contest reading "Yoylecake!".
Because of the spam comments on the blog posts, many users spoke out against the morality of the BFDI fanbase and how their actions were unfair for the other nominations.
External links