Latest Episode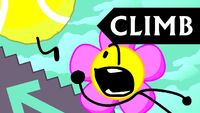 Get to the Top in 500 Steps is the 11th episode of Battle for BFDI, and the 42nd episode overall of the Battle for Dream Island series. It was released on May 27, 2018.
The first scene shows Liy talking to Pencil about the contestants in EXIT never opening the door behind Pencil's seat that had been in the EXIT for months. Stapy starts to tease Liy for being "too scared" to see what's beyond. Liy hits Stapy and tells him it's locked, and Pencil says she's never seen Four with a key for the door, to which Liy agrees. Stapy continues to tease Liy, but she gets hits him, causing a staple to come out, and then turns it into a lockpick. Just when Liy is about to unlock the door, Four comes in, yelling for the contestants in EXIT to get back to their seats for Cake at Stake. (Full article...)
Previous Episodes: Enter the Exit • This Episode Is About Basketball • Questions Answered • The Liar Ball You Don't Want • More...
Did you know...
Poll
Right now, what is your favorite episode of Battle for BFDI?
About
Welcome to the Battle for Dream Island Wiki! We are a collaborative encyclopedia about Battle for Dream Island, and its sequels, Battle for Dream Island Again, IDFB and Battle for BFDI. We have 890 articles and 50,434 files.
Battle for Dream Island is a web-series created by jacknjellify on YouTube. It revolves around a bunch of anthropomorphic objects who are competing in a competition to win the grand prize of Dream Island, a luxurious island.
Please add and share your knowledge, but vandalism and unwanted edits may lead to consequences. If you have any problems, leave a message on one of our admin's talk page.
Note that this wiki is for canonical BFDI information only. However, you're welcome to post fan-made materials on the fan page, your blog, or the fan fiction wiki.
This wiki is fan-run and is not an official BFDI website. For official BFDI news and information, check the links below.
Official links
BFDI wiki in other languages
Related wikis
Scroll to the bottom for more object show wikis!
Recent activity