Latest Episode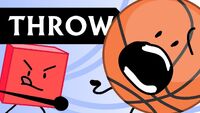 This Episode Is About Basketball is the 9th episode of Battle for BFDI, and the 40th episode overall of the Battle for Dream Island series. It was released on April 6, 2018.
Marker wants Stapy to play "Eat the Dirt" with him. Stapy instantly agrees, but after realizing what Marker said, he backs out. Coiny enters the scene and serves Marker dirt cake on a plate, which causes the intro to start because he raised his hand.
Clock is ticking when suddenly he rings like he has done in previous episodes. Dora also "rings". Stapy asks Donut if it meant it was time for Cake at Stake, but Donut interrupts him rudely, finishing his sentence. (Full article...)
Previous Episodes: Questions Answered • The Liar Ball You Don't Want • Four Goes Too Far • Fortunate Ben • More...
Did you know...
Poll
Right now, what is your favorite episode of Battle for BFDI?
About
Welcome to the Battle for Dream Island Wiki! We are a collaborative encyclopedia about Battle for Dream Island, and its sequels, Battle for Dream Island Again, IDFB and Battle for BFDI. We have 1,006 articles and 40,825 files.
Battle for Dream Island is a web-series created by jacknjellify on YouTube. It revolves around a bunch of anthropomorphic objects who are competing in a competition to win the grand prize of Dream Island, a luxurious island.
Please add and share your knowledge, but vandalism and unwanted edits may lead to consequences. If you have any problems, leave a message on one of our admin's talk page.
Note that this wiki is for canonical BFDI information only. However, you're welcome to post fan-made materials on the fan page, your blog, or the fan fiction wiki.
This wiki is fan-run and is not an official BFDI website. For official BFDI news and information, check the links below.
Official links
BFDI wiki in other languages
Related wikis
Scroll to the bottom for more object show wikis!
Recent activity