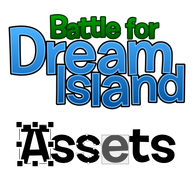 These are the bodies, limbs, and details for the characters in Battle for Dream Island and Battle for Dream Island Again, made easily available on this page.
Official vector collections of assets (in Flash form) are available here.
GIFs cannot be used to animate. Do not insert them.
Backgrounds
BFDIA
Space
Bodies
BFDI
BFDIA
Oldies
Metal
Eraser
Donut
Recommended Characters
Poisoned Form
Cake at Stake Items
Eyes
Oldies
Mouths and IDFB Mouths
The () markup indicates the sound the mouth is used on.
Smile