Another Name is a team in Battle for Dream Island, created in "Insectophobe's Nightmare" when the teams were uneven (the Grapes had 10 contestants while the Cherries had 5), so the Announcer decided to split the Squashy Grapes into two teams. One group was lead by Leafy and was still called the Squashy Grapes, as the name had grown on Leafy. Firey suggested that their team be called "Squashy Grapes" as well, but Golf Ball disagreed and told him that the team name had to be "another name". The Announcer named the team "Another Name" as a result. The team included Rocky, Coiny, Firey, Tennis Ball, and Golf Ball.
Members
An asterisk means they competed in season two. An x means they competed in season two but were eliminated.
Trivia
This is the second shortest team that lived in the series by only lasting 3 episodes.
Gallery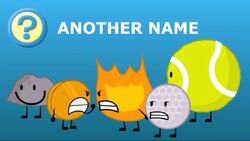 Click here to view the gallery.