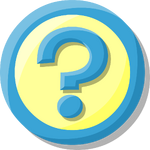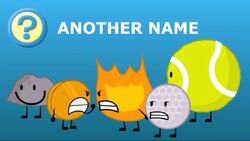 Another Name is a team in Battle for Dream Island, created in Insectophobe's Nightmare when the teams were uneven (the Grapes had 10 contestants while the Cherries had 5), so the Announcer decided to split the Squashy Grapes into two teams. Firey suggested that he wanted the team to be called "Squashy Grapes", but Golf Ball disagreed and told him that the team name had to be "another name". The Announcer named the team "Another Name" as a result. The team included Rocky, Coiny, Firey, Tennis Ball, and Golf Ball.
Members
Trivia
This is the only team to have every member in BFDIA.

The same goes for IDFB.
This team only has one female (GB) and 4 males (TB, Rocky, Firey, and Coiny)

This is also the team that has the least members to begin with, being 5. (If Match and Bubble are counted as members of FreeSmart. If not, FreeSmart beats this record, having 4 official competing members.)
This is currently the only team in both seasons to have never got 1st place in a challenge.

It is also the only team to never have someone switch onto it.

This idea was repeated in the first episode of BFB, with Golf Ball naming her team A Better Name Than That.
Ad blocker interference detected!
Wikia is a free-to-use site that makes money from advertising. We have a modified experience for viewers using ad blockers

Wikia is not accessible if you've made further modifications. Remove the custom ad blocker rule(s) and the page will load as expected.