Another Name is a team in Battle for Dream Island, created in Insectophobe's Nightmare when the teams were uneven (the Grapes had 10 contestants while the Cherries had 5), so the Announcer decided to split the Squashy Grapes into two teams. One group was lead by Leafy and was still called the Squashy Grapes, as the name had grown on Leafy. Firey suggested that their team be called "Squashy Grapes" as well, but Golf Ball disagreed and told him that the team name had to be "another name". The Announcer named the team "Another Name" as a result. The team included Rocky, Coiny, Firey, Tennis Ball, and Golf Ball.
Members
An asterisk means they competed in season 2. An x means they competed in season 2 but were eliminated.
Name
Gender
Team Icon
Original team
Order voted off
Episode voted off
Number of votes at points of elimination
Golf Ball*
Female
17th
Lofty
6 (originally 12, but she used her Win Token, eliminated via contestants' choice)
Coiny*
Male
16th
A Leg Up in the Race
30 (eliminated via contestant's choice, even though he would have been eliminated anyways)
Tennis Ball*
Male
10th
Reveal Novum
2 (eliminated via tiebreaker)
Rocky*
Male
Switched to
Don't Pierce My Flesh
319
6th
Firey*
Male
Winner
He wasn't eliminated in BFDI
406 (To win)
Trivia
This is the second shortest team that lived in the series by only lasting 3 episodes.
This is also the team that has the least members to begin with, being 5. (If Match and Bubble are counted as members of FreeSmart. If not, FreeSmart beats this record, having 4 official competing members.)
This is the only team that never got 1st place in a single challenge out of BFDI/BFDIA.

It is also the only team to never have someone switch onto it, unless the BFB teams are counted.

The naming scheme was repeated in the first episode of BFB, with Golf Ball naming her team on accident.

Four may have referenced this team by calling "Another Name Than That".

Golf Ball is the only female on this team, similar to Leafy on
Firey is the only original Squishy Cherry on this team.
Gallery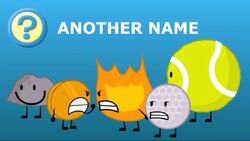 Click here to view the gallery.