006. Landfill is the 6th level in the game BFDIA 5b.
Appearance
It starts with Book in the bottom left. There is a platform on top that has one wooden box, one package, two iron boxes on them. There is also spikes on the bottom.
Guide
Make a bridge over the spike pit with the boxes. Remember to put the two biggest boxes at the end so that you could jump higher, as the end teleporter is high up.
Win Token Guide
To get the Win Token, first get the lightest box (the package) and get to the second step to the pit. Throw the box down. Then go down to get the Token and go up to build the full bridge to complete the level.
Trivia
In the trailer of this game, the background of this level was originally the Clubhouse of Awesomeness. But for some reason it got changed to the regular red background.
Walkthrough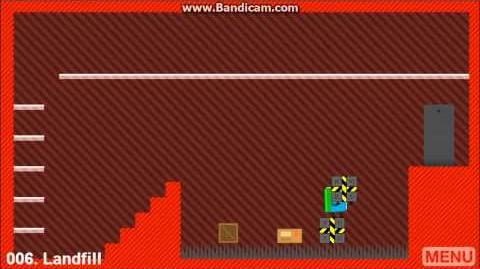 Ad blocker interference detected!
Wikia is a free-to-use site that makes money from advertising. We have a modified experience for viewers using ad blockers

Wikia is not accessible if you've made further modifications. Remove the custom ad blocker rule(s) and the page will load as expected.